Company
Founded in 1996, the limited-liability company of Rovyna s.r.o. has been dynamically developing ever since. Operating now from newly built premises in Rojšín, a village in the vicinity of České Budějovice, the firm boasts the most sophisticated machinery available on the market. 
A specialist in the manufacture of cutting tools for rotary machines, the company supplies its products both to multinational concerns and to private customers based in a number of European countries, e.g. Austria, Bulgaria, Czech Republic, Croatia, Germany, Hungary, Lithuania, Poland, Romania, Slovakia and Slovenia.
Moreover, we offer custom-made items for the tool shops of our clients (benders, notching machines, shear cutters, cylinders, cylinder stands, and similar implements...).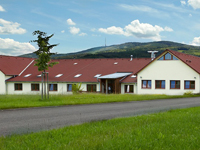 1996 company was founded in Brloh 
1997 Kongsberg, an automated cutter was purchased
2001 the first laser device was obtained
2003 Modularis automated cutter was bought
2006 the company moved to new premises in Rojšín
2006 a new laser cutter was purchased 
2007 a water-jet cutter was obtained;
2007 an automated rule processor was bought
2011 another automated rule process and rule bender were purchased
.
Contacts
tel: +420 380 745 315
fax: +420 380 745 316
e-mail: rovyna@rovyna.cz
Brloh - Rojšín 42
382 03 Křemže
Czech Republic